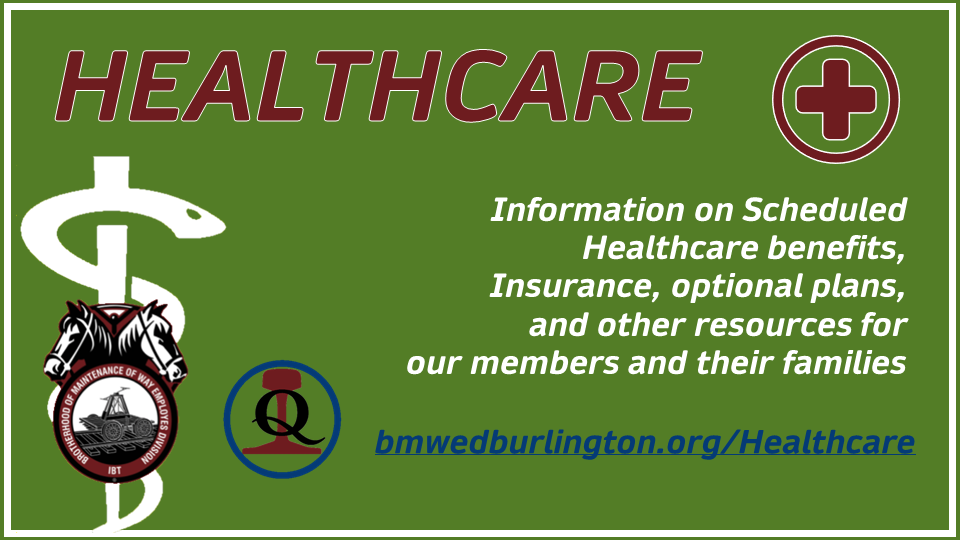 This page serves as a one-stop shop for our members to look-up information pertaining to their healthcare coverage, benefits, or other healthcare-related matters.
Our members do not all share the same type of coverage, so not everything on this page may apply to your specific railroad. When in doubt, call Railroad Enrollment and Eligibility Services at (800) 753-2692 or contact your Burlington System Division officers and staff.
---
WHAT TO DO IF YOU ARE ON A MEDICAL LEAVE OF ABSENCE
If you are on a Medical Leave of Absence (MLOA) or find yourself needing to plan for one in the near future, you should update your status with the System office and let us help you!
Contact the HR, Employee Services, or Leaves Administration for your Railroad.
Contact the System office at (402) 463-0234 or update your Member Status on our website at https://www.bmwedburlington.org/MemberStatusUpdate.
Download the forms you will need to submit a claim for RRB Sickness Benefits at https://www.bmwedburlington.org/RRB. You will FAX completed forms to RRB at (312) 751-7185.
SI-1AB - RRB Application for Sickness Benefits
G-93 - Statement of Claimant or Other Person
SF-1199A - Direct Deposit Form
Once your RRB Sickness Benefits application has been received and approved, you will be able to submit claims for RRB Sickness Benefits. You should also contact The Hartford at this time to start a claim for your Supplemental Sickness Benefits. You can contact The Hartford at (800) 205-7651.
---
LOSS OF BENEFITS AND COVERAGE FROM A PERSONAL LEAVE OF ABSENCE
For our members covered under the National Health & Welfare Plan, there are circumstances (Personal Leave of Absence, self-furlough, etc.) that can result in you LOSING your healthcare coverage until you reestablish eligibility after your return to service. The letter linked above described this situation in more detail.
---
CRITICAL INCIDENT STRESS PLANS (EXTERNAL LINK)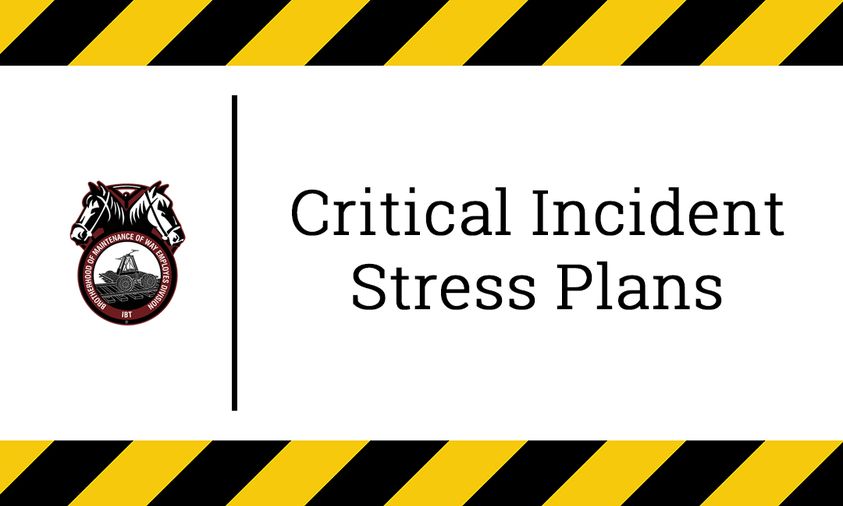 Each railroad is required to have a Critical Incident Stress Plan that provides for debriefing, counseling, guidance, and other appropriate support services to be offered to an employee affected by a critical incident.
Railroad work is hazardous, unforgiving, and rail workers often encounter death or grievous injuries among themselves, their coworkers, or others during their careers. Critical incident Stress Plans provide resources for rail workers to find support if they've experienced trauma from such incidents.
---

YOUR TRACK TO HEALTH (EXTERNAL LINK)
This website is a great resource for our members and their families to access information on all their scheduled benefits. Information and contacts for your health insurance, prescription coverage, dental, vision, supplemental sickness (through The Hartford), life insurance (through Met Life), retirement options, wellness, behavioral health, and more resources are all available through this website.
Your Track to Health 24/7 Nurses & Health Specialists

(866) 735-5685

Railroad Enrollment Services

(800) 753-2692
8 a.m. - 8 p.m. EST
Railroad Eligibility Fax

(248) 733-6080
24 hour access/7 days a week
Railroad Enrollment and Eligibility Services

PO Box 30775
Salt Lake City, UT 84130-0775
We STRONGLY encourage all our members, and their families, to take the time to visit Your Track to Health and get to know what's available on this site.
---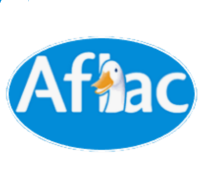 NEW OPEN ENROLLMENT PERIOD
ENDS JUNE 02, 2023
TO ENROLL CALL AN AFLAC REPRESENTATIVE USING THE RAILROAD EMPLOYEE EXCLUSIVE PHONE NUMBER 855-249-5999!
AFLAC/BMWED SUPPLEMENTAL PLANS (EXTERNAL LINK)
BMWED has worked with Aflac to offer a variety of supplemental plans that can support you and your family through difficult moments and which fill in gaps left by RRB benefits and scheduled supplemental sickness benefits.
AFLAC GROUP DISABILITY FOR BMWED
AFLAC GROUP ACCIDENT INSURANCE PLAN
AFLAC GROUP HOSPITAL INDEMNITY PLAN
AFLAC GROUP CRITICAL ILLNESS INDEMNITY PLAN
AFLAC PLAN COST BREAKDOWN SHEET (ALL PLANS)
---

SUPPLEMENTAL SICKNESS BENEFITS (THE HARTFORD) (EXTERNAL LINK)
Our members under the National Health & Welfare Plan are eligible for a Supplemental Sickness benefit plan, administered by the Hartford. Members looking to file a claim for Supplemental Sickness Benefits must also have a claim filed with the Railroad Retirement Board for RUIA Sickness Benefits in order for their Supplemental Sickness Benefits claim to be processed.
FAQ on Supplemental Sickness Benefit Plan
Supplemental Sickness Benefit Plan Document
---
RETIREMENT (EXTERNAL LINK)
Depending on each member's personal situation and the time they retire, there are different options available for healthcare after retirement.
United Healthcare Preparing for Early Retirement
United Healthcare Retirement To-Do List
---
PLAN DOCUMENTS
RAILROAD EMPLOYEES NATIONAL HEALTH & WELFARE PLAN
MetLife LIFE INSURANCE BENEFITS
HEALTH FLEXIBLE SPENDING ACCOUNT PLAN
For more plan information, visit the Your Track to Health website
Page Last Updated: Apr 10, 2023 (07:02:08)