Burlington System Division Annual Training Seminar, March 22-24, 2023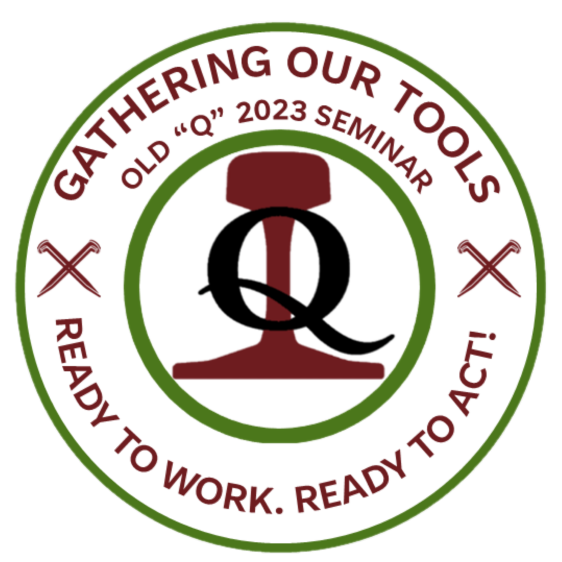 GATHERING OUR TOOLS: LEARNING HOW WE WORK,
LEARNING HOW WE ACT!
BURLINGTON SYSTEM DIVISION 2023 ANNUAL SEMINAR
---
Our members came together from all across the Burlington System Division to engage in a jam-packed training event that provided them with skills and tools they can take back to their local Lodges or their work locations. Our Seminar included:
Training on Understanding the Railway Labor Act.
Presentations and remarks by National Division officers and staff.
Guests from other System Divisions and Federations of the BMWED.
Workshops on Claims & Grievances.
Tips and Resources to navigate filing for Medical Leaves of Absence, RUIA/RRB Sickness Benefits, bargained Sickness Benefits, and optional Plans.
Information on your rights and responsibilities under the Federal Employers Liability Act (FELA) if you're injured at work!
Discussion sessions with our bargained healthcare benefit providers!
Information on optional job insurance or benefit plans.
Open forums and Q&As with your System officers and invited guests.
Information on RRB benefits, annuities, and getting ready for retirement.
Hands-on work learning how to organize our Lodges or work locations to focus on ACTION!
This year's Seminar was filled with good information and included guests from all over our Union. Our members were also invited to participate in a rally/informational picket in front of Berkshire Hathaway's corporate offices on Friday, March 24th, giving them a chance to both learn and ACT!
Even if you were unable to attend our 2023 Seminar, you can find more information and resources here! Please look below for documents, videos, web links, and other tools you can take back to your Gang or Lodge to build a bigger toolbox our members can use to strengthen our Union!
You can also find out more by visiting our Facebook page!
---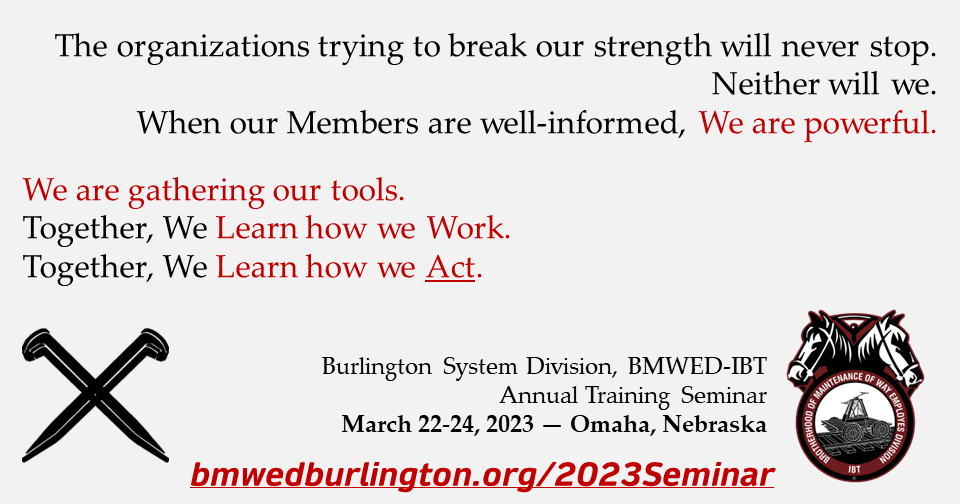 WELCOME VIDEO
A WELCOME VIDEO FROM GREG REGAN, PRESIDENT OF THE
TRANSPORTATION TRADES DEPARTMENT, AFL-CIO
---
PARTICIPANT PRE-SEMINAR SELF-ASSESSMENT
THIS ONLINE QUESTIONNAIRE WILL HELP GAUGE OUR PARTICIPANTS' EXPERIENCE AND REFINE OUR TOOLS AND METHODS FOR OFFERING TRAINING AND DEVELOPMENT (~5 MINUTES TO COMPLETE)
SUPPLEMENTAL MATERIALS
(REFERENCES AND RESOURCES FOR OUR MEMBERS AND ATTENDEES)
FREQUENT CONTACTS LIST (BENEFITS, SYSTEM DIVISION NUMBERS, AND OTHER CONTACTS)
BMWED FUNCTIONS & STRUCTURE (2012 GUIDE FROM BMWED)
---
UNDERSTANDING THE RAILWAY LABOR ACT
UNDERSTANDING THE RAILWAY LABOR ACT PRESENTATION
"KEY CONCEPTS" TRI-FOLD PAMPHLET
RLA FLOWCHART - THE RLA BARGAINING PROCESS "AT A GLANCE"
---
YOUR RIGHTS UNDER FELA - RAILROAD INTIMIDATION TACTICS
A PRESENTATION BY CHRIS LEACH, BMWED-DESIGNATED FELA ATTORNEY, CONCERNING RAILROAD TACTICS TO HINDER MEMBERS' RIGHTS UNDER
FELA
---
NAVIGATING A MEDICAL LEAVE OF ABSENCE
UNDERSTANDING BARGAINED HEALTHCARE BENEFITS
KNOWING WHEN BARGAINED HEALTHCARE BENEFITS END
YOUR TRACK TO HEALTH - HEALTHCARE BENEFITS RESOURCE SITE
UNDERSTANDING FMLA
UNDERSTANDING SICKNESS LEAVE & BENEFITS
APPLYING FOR SICKNESS BENEFITS
GOING ON A MEDICAL LEAVE OF ABSENCE (BNSF)
---
CLAIMS, GRIEVANCES, & APPEALS
WHAT TO KNOW ABOUT CLAIMS - A QUICK GUIDE
SUPPORTING A CLAIM - BETTER WITNESS STATEMENTS
---
THE FEDERAL EMPLOYERS LIABILITY ACT (FELA)
BURLINGTON SYSTEM DIVISION FELA RESOURCE PAGE
---
BMWED SAFETY DEPARTMENT
WHISTLEBLOWER PROTECTIONS FOR RAIL WORKERS (PowerPoint)
WHISTLEBLOWER PROTECTIONS FOR RAIL WORKERS (.PDF)
---
RRB BENEFITS
RAILROAD RETIREMENT BOARD WEBSITE AT rrb.gov
---
BMWED ARMED FORCES COUNCIL
ARMED FORCES COUNCIL INFORMATIONAL FLYER
---
HOLDING MORE EFFECTIVE LODGE MEETINGS
PARLIAMENTARY PROCEDURE - ROBERT'S RULES OF ORDER
QUICK GUIDE TO MORE EFFECTIVE MEETINGS
AFL-CIO GUIDE "HOW TO RUN A UNION MEETING"
---
ONLINE RESOURCES & TOOLS PRESENTATION
---
ORGANIZING AND PLANNING AN ACTION
PLANNING AN ACTION - GETTING STARTED
DEFINING A CLEAR PURPOSE & INTENT
ORGANIZING PRESENTATION (Presentation)
ORGANIZING PRESENTATION (.PDF)
ORGANIZING WORKSHEET
BURLINGTON SYSTEM DIVISION'S ORGANIZING PAGE
OUR ORGANIZING PAGE OFFERS MORE TOOLS, RESOURCES, AND READINGS TO
HELP OUR MEMBERS DIG DEEPER INTO THE IMPORTANCE OF UNION ORGANIZING
WORK AND HOW OUR ORGANIZING FITS INTO OUR BROADER UNION MISSION.
https://www.bmwedburlington.org/Organizing
BURLINGTON SYSTEM DIVISION'S STRIKE READY PAGE
OUR STRIKE READY PAGE OFFERS GUIDANCE ON HOW TO EFFECTIVELY PLAN AND
COORDINATE ALL KINDS OF UNION ACTIONS, NOT JUST STRIKES!
(MEMBER ACCESS ONLY, LOG-IN REQUIRED)
https://www.bmwedburlington.org/StrikeReady
---
RALLY FOR RAIL LABOR!
MARCH 24th 2023 - OMAHA, NE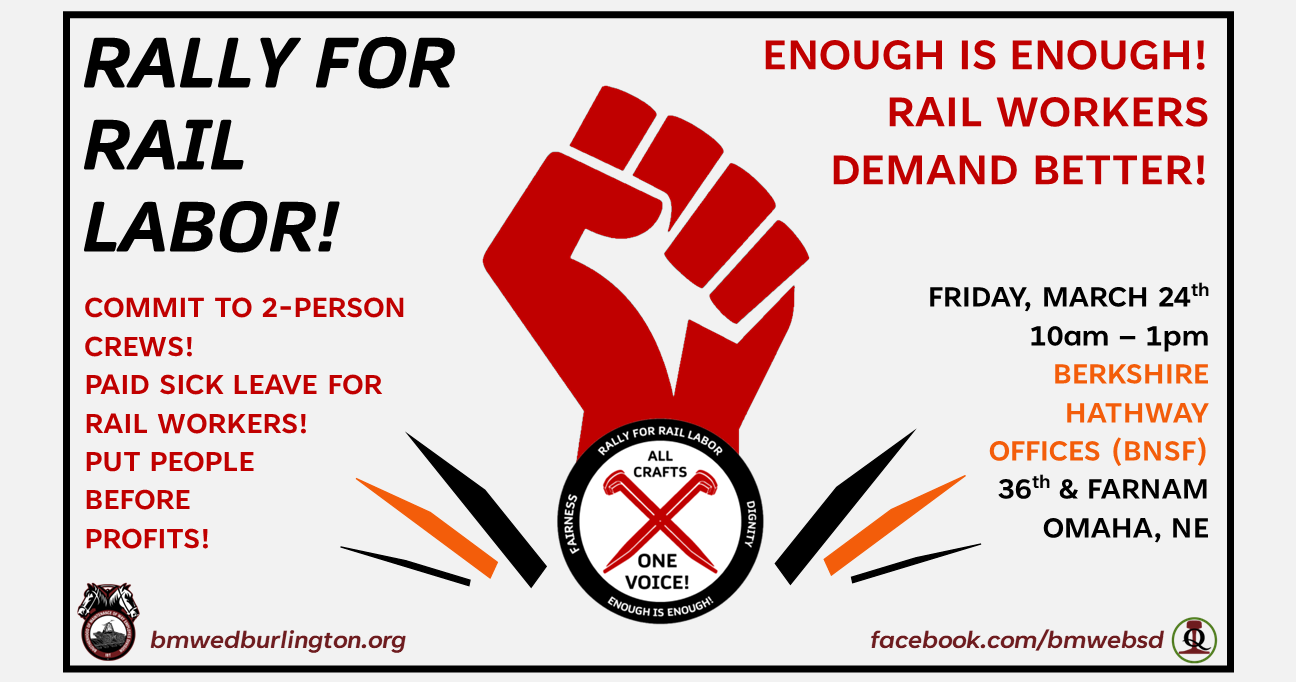 NEWS ARTICLE/VIDEO FROM KMTV (CBS)
NEWS ARTICLE/VIDEO FROM KPTM (FOX)
NEWS ARTICLE/VIDEO FROM KETV (ABC)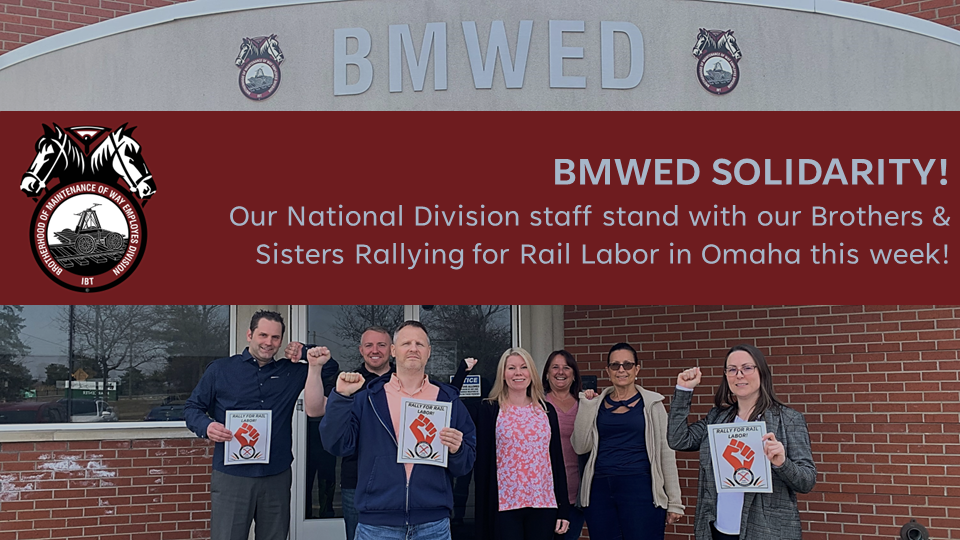 Page Last Updated: Mar 29, 2023 (12:34:46)