2020 National Bargaining Information


This page will serve as a one-stop resource for looking up the various information, links, and articles posted over the course of the 2020 National Bargaining Cycle.


National Bargaining enters Mediation July 27th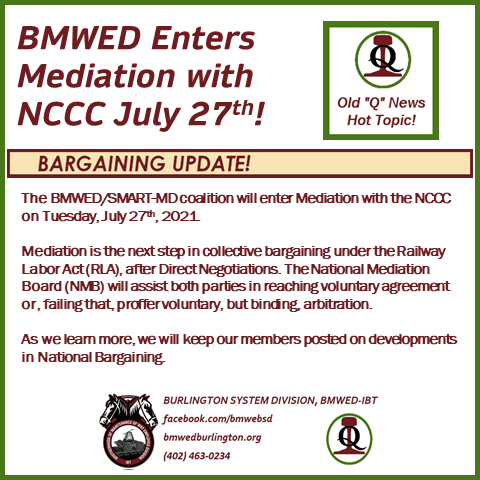 The BMWED/SMART-MD coalition will enter Mediation with the NCCC on Tuesday, July 27th, 2021. Mediation is the next step in collective bargaining under the Railway Labor Act (RLA), after Direct Negotiations. The National Mediation Board (NMB) will assist both parties in reaching voluntary agreement or, failing that, proffer voluntary, but binding, arbitration.

December 1, 2020 Bargaining Update!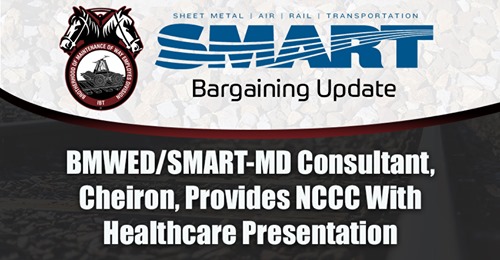 Bargaining Update: BMWED/SMART-MD Consultant, Cheiron, Provides NCCC With Healthcare Presentation Published: Dec 2 2020 11:06AM https://www.bmwe.org/secondary.aspx?id=492 The BMWED/SMART-MD National Bargaining Coalition's healthcare consultant, Cheiron, provided the National Carriers Conference Committee (NCCC) a presentation at the latest negotiation meeting Tuesday, Dec.

Bargaining Update! October 1, 2020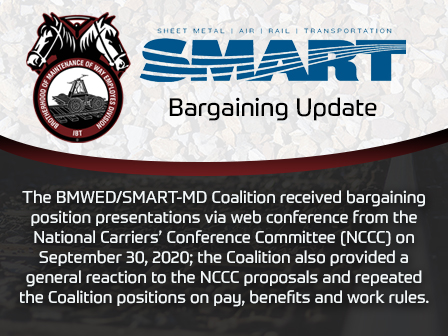 - From the National Division at bmwe.org- The BMWED/SMART-MD Coalition received bargaining position presentations via web conference from the National Carriers' Conference Committee (NCCC) on September 30, 2020; the Coalition also provided a general reaction to the NCCC proposals and repeated the Coalition positions on pay, benefits and work rules.

Understanding Collective Bargaining under the RLA

The attached chart shows how bargaining works under the Railway Labor Act (RLA). The process prescribed by law for railroads and unions like ours is much different than what is experienced by unions under the National Labor Relations Act. The entire process is designed to avoid disruptions to commerce (whether by strikes or lockouts).
Download:

RLA-Collective-Bargaining-Chart.pdf
Nov. 1, 2019 - BNSF Serves Section 6 Notice

This article regards BNSF's November 1, 2020 Section 6 Notice to BMWED to begin National Bargaining. Attached to the original article are a copy of BNSF's notice, as well as a chart describing the process laid our in the RLA for collective bargaining.

Page Last Updated: Jul 16, 2021 (12:30:28)