Old Q Members Needing Our Support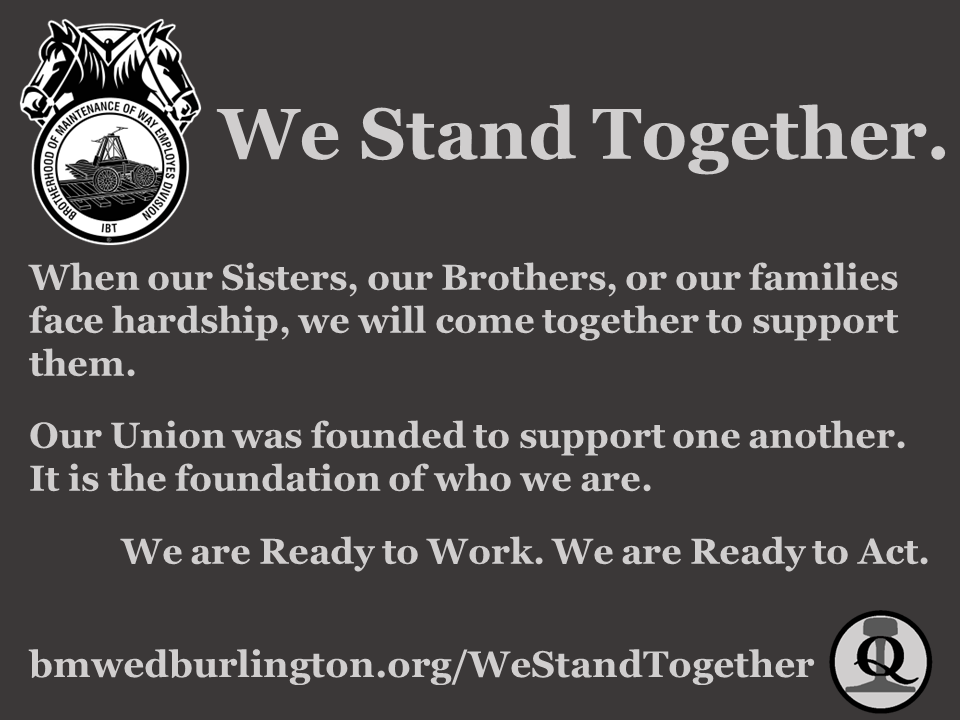 This page will be a hub where we can share information and requests for support when our Brothers, our Sisters, or our families are facing hardship or situations of need.
Since our founding, our core value has always been that we support our fellow members and our families.
Our strength is not on paper, nor in our tools. Our strength is in our hearts and our actions, as we stand by one another through hardship.
We will come to the aid of our Sisters and Brothers. It is the foundation of who we are.
We Stand Together. We are Ready to Work. We are Ready to Act.
We are the Burlington System Division, the Old Q.

Brother Wayne Greenlief
Brother Wayne Greenlief, Lodge 798, needs our support. Brother Wayne has been diagnosed with Stage 4 cancer. He is fighting to beat this cancer. A benefit will be held for Brother Wayne on March 25th in Abingdon, Illinois. All our members are encouraged to attend, if they are able.

BMWED Mississippi Tornado Disaster Relief
The BMWED will provide $2,000 to those members who lost immediate housing at their primary residence and their jobs; and $500 to members who lost their jobs but who have immediate housing OR has lost immediate housing, but has their job, as a result of this natural disaster. Find out more on the National Division's website at bmwe.org.

Page Last Updated: Mar 17, 2023 (07:56:00)