Brother Jakob Forsgren Telling the Rail Workers' Story
Updated On: Dec 335, 2022
Brother Jakob Forsgren of Burlington System Division's Lodge 1320 helped tell the story of our fight for a better quality of life nationwide on ABC's Good Morning America and why we need paid sick leave.
Watch Brother Forsgren's segment here or take a look at the other resources and information on our site to learn how you can be a part of winning a better quality of life for rail workers!
Thank you Brother Jakob! We are proud of what you do to represent the Burlington System Division, the BMWED, and workers everywhere!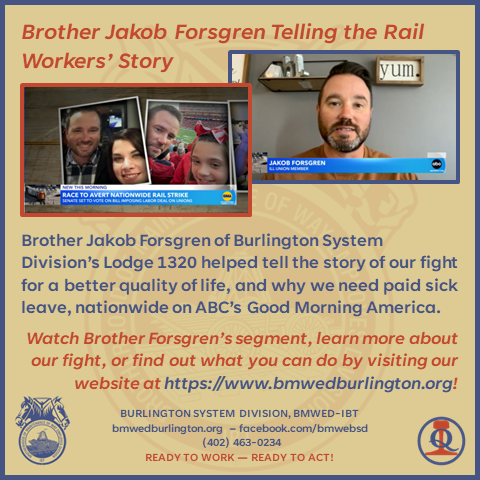 https://www.goodmorningamerica.com/news/video/congress-races-avert-rail-strike-94268217